Tom Quilty
Details
The AERA in conjunction with WAERA, Tom Quilty 2020 Committee, NSWERA and Tom Quilty 2021 Committee would like to advise that the 2020 Tom Quilty event has been cancelled. This is necessary due to the uncertainty of the COVID-19 situation and the impact the pandemic is having on being able to prepare for and run the Tom Quilty. The 2021 event will be held at Collie, WA and will be hosted by the WA Tom Quilty Committee. All subsequent Quilty events will be delayed by a year with the Tooraweenah NSW Quilty being run in 2022.
AERA would like to sincerely thank all the parties involved in the many discussions over the past 7 weeks. This has been a multifaceted issue, unprecedented in our endurance history. Everyone contributed to the discussion and worked towards the best outcome for the sport and the collaborative approach was very much appreciated. WAERA and the Tom Quilty 2020 Committee would like to express its deep gratitude to the Tom Quilty 2021 and NSWERA Committees for their understanding and empathy in this situation and for their co-operation. The AERA sincerely wishes the WA and NSW Quilty Committees every success with their events.
AERA, WAERA and the WA Tom Quilty Committee will be working to determine a suitable date in 2021 and a further announcement will be made once this is finalised.
Linda Tanian
AERA President
Details
Time certainly flies when you are waiting for a Quilty to come around. With the blink of an eye ,a year has vanished and now it is just over six months before the National Championships , the Tom Quilty Gold Cup .This event will be held from the Collie racecourse from the 18th to the 20th of September.
Our hearts go out to those affected by the Eastern States bushfires and we hope the disruption will not deter too many riders from travelling over to the West. Three rides to date in N.S.W. have been cancelled and there may be more due to the unfavourable events related from the fires.
Details
Quilty 2020 News by Amanda Rayner
The Tom Quilty Gold Cup committee comprises 25 WAERA members that are experienced at their respective portfolios and are dedicated to making the event a success. Many of the members have experience at previously hosting this National event.
Formal meetings of the committee commenced in November 2018 and continue monthly to plan the event.
Several of the members live in Collie or close proximity to the town allowing local knowledge of the countryside and townsfolk to be extremely beneficial in the organisation.
Details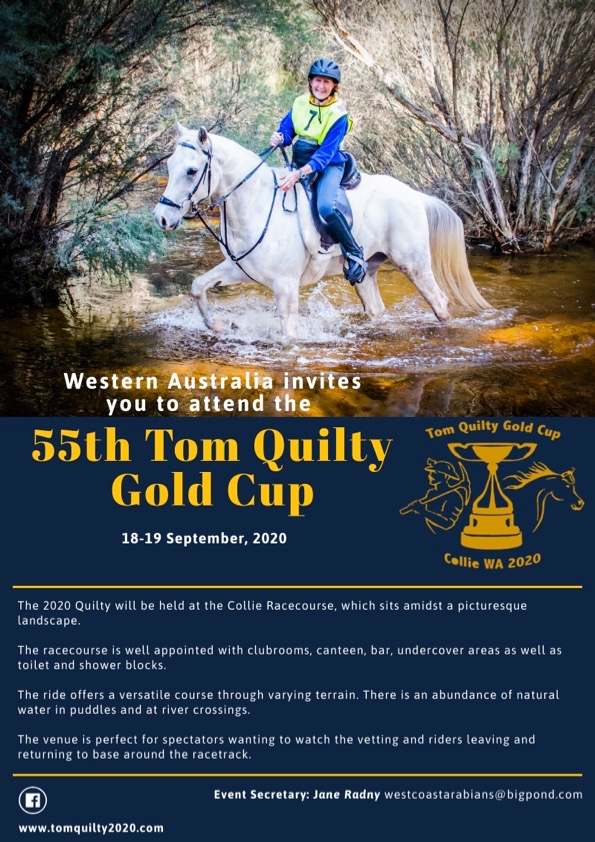 Details
The VERA SMC would like to congratulate the following horse and rider combinations for being selected onto the VERA Quilty Team 2019:
Wendy Riha and Bullio Gebreselassie

Tanya Beacham and Creswick Magdaleenah

Kim Noble and Mizzi Cougar

Renee Henry on Cadenza Supernatural